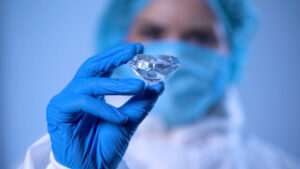 The four most important diamond characteristics are color, clarity, carat weight, and cut. Nevertheless, the most important diamond characteristic to consider when shopping for an engagement ring is still the cut of the stone. There are many different cuts for engagement ring diamonds, but some are better and more popular than others. Are you looking for an engagement ring set with natural or lab grown diamonds? If so, here are some of the options that you might want to consider as the cut for the stone.
Round Brilliant
It is a classy diamond shape that has stood the test of time and stayed popular among brides. There is perhaps no substitute for the sparkle, brilliance, and simplicity of a round diamond in the jewelry industry. Achieving a top-quality round diamond requires cutting much of the rough stone. A quality gemstone cutter breaks the diamond in half at the least, which leaves the rest of the stone unused in jewelry. Therefore, the potential rate of the other parts of the stone will be factored into the price of the final diamond, making it the costliest shape for engagement rings.
Princess Cut
A diamond with the so-called princess cut is the right option for a trending engagement ring setting, such as a fancy stylish arrangement or a delicate one. The intense shine of this stone elevates any ring setting that it comes in.
Asscher Cut
It is a combination of the emerald diamond cut and the above-mentioned princess cut. Regarded as a stunning and dramatic diamond cut with hints of royalty, the Asscher cut is for a woman who loves a jewelry piece that feels vintage.
Cushion Cut
It is classic and soft in terms of looks and features softly rounded diamond corners. Cushioned-shaped diamonds are available in different sizes for a woman of any age group.
Marquise Cut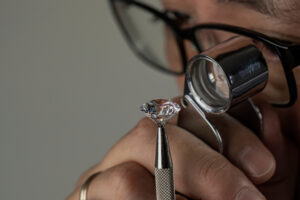 Resembling a narrow American football, a diamond with a marquise cut is regarded as a unique and showy option that suits a woman with short fingers. It can make your lover's engagement ring finger look longer than it is and make their hands appear daintier.
Heart Cut
Loving, sweet and romantic, a heart-shaped diamond is for an openly affectionate couple. It primarily comes as a centerpiece or a solitaire diamond in an engagement ring. Diamonds symbolize love, so an engagement ring with a solitaire diamond or a group of diamonds clustered around a centerpiece stone is more desirable.