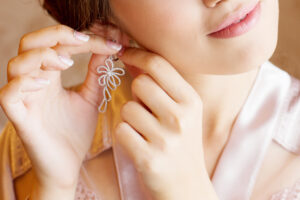 Earrings are used by women for centuries for enhancing their beauty. Studs and small hoops are some examples of different types of earring designs used by women. Not all earrings go with all kinds of outfits and you have to choose them accordingly. You can confidently go for diamond earrings as they have a marvelous appearance and will last for a very long time. Diamonds can be used with many types of metal earrings like gold, platinum, etc.
Right now statement earrings are on top of the popular trends. Statement earrings have a bold design and they may be a little bigger than normal earrings. Different models of statement rings come into the trend for some time and go out of trend. So it is better to choose a classic earring like a gold hoop earring as it never becomes outdated. Moreover, these diamond earrings can match almost all dress combinations and can be a great asset to your jewelry collection.
In this article, we are going to look at some diamond earring designs that caught the attention of people in the year 2022.
Inside Out Diamond Hoops
This diamond earring design is a classic and beautiful design that can easily attract your attention. Diamonds are fixed on both the inside and outside of the earring hoop. It requires a number of diamonds to be fixed on the hoop, so it is better to go for lab-grown diamonds. By using lab-grown diamonds, you can get flawless and good-quality graded diamonds at a comparatively less price. The hoop earring doesn't match with formal attires but is an excellent choice for a dinner date or for participating in a wedding. You can also choose these diamond earrings as a gift to your loved one.
Two-Stone Drop Earrings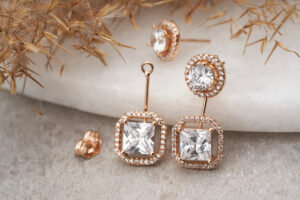 This earring design is an excellent choice for people who are looking for a versatile appearance. This earring design consists of two diamonds in each earring. One diamond dangles from your ear, whereas the other remains fixed to your ear. This earring can be used along with casual wear or with formal attires. If you are using it with party wear, you can match the earring with a diamond solitaire necklace.
Whatever diamond earring you like, it is important to select the most suitable metal for the earring. Different options including platinum, white gold, yellow gold, and rose gold are available to make your earring.