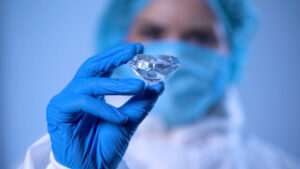 Natural and lab grown diamonds are graded using the same 4Cs – the cut, the clarity, the color and the carat. This is a universally acknowledged evaluation system to measure the quality of a diamond. Let us have a look at what the 4Cs represent.
What Does Cut Represent?
The cut of a diamond determines how the light that falls on the diamond surface is reflected and refracted by the various facets and angles of the diamond to give its brilliance.  The cut of the diamond is often mistaken as the shape of the diamond. The shapes refer to the actual geometric shape of the stones such as round, oval, pear, heart, etc. Some cuts and shapes go hand in hand to create an exceptional and unmatched brilliance, especially in large diamonds with more facets to shine light. The optical characteristics of a diamond thus depend a lot on the cut of the diamond.
What Does Color Represent?
Diamond is formed mainly by carbon atoms. Natural and manmade diamonds come in a variety of colors based on trace elements, other than carbon, present in them during their formation. The hue and intensity of the diamonds depend on the content of the minerals that give color to the stone. The more the content, the darker the color. Colorless or white diamonds with no inclusions are the most valued ones in the market. Large colorless diamonds are rare and are sought after by collectors and jewelers alike.
What Does Clarity Represent?
The clarity of a diamond depends on the blemishes or inclusions in the diamond. These include trace minerals and flaws like a crack or scratches in the crystal structure of the stone. The absence of blemishes makes diamonds rarer and more valuable than the ones with even slight inclusions that are not visible to the naked eye. This is applicable to colorless and colored diamonds alike. Therefore, the diamonds with no visible inclusions of any color would fetch a higher price than their counterparts with slight to high levels of inclusions or flaws.
What Does Carat Represent?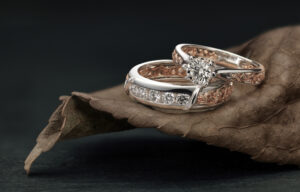 Carat is the representation of the physical weight of the stone. Not all diamonds of the same carat would look the same. They would differ considerably in appearance based on their shape and cut.
Two diamonds of the same cut, clarity, color and carat that look alike to the naked eye may have different and unique characteristics when observed by a trained gemologist. The value of the diamond would depend on its grading based on these characteristics.