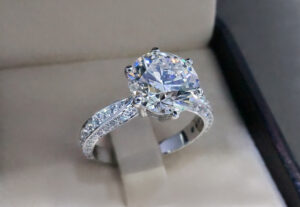 Not everyone has a dream engagement ring. Some people do not give enough thought to the type of engagement ring that they want. That is why they often find it difficult to choose a diamond shape for their engagement rings. There are several different diamond shapes available today and each of them has unique characteristics. If you fail to do any research before going to a diamond store, it can be quite overwhelming.
Let's take a look at some of the best diamond shapes that are available for your engagement rings.
Oval Cut
Oval engagement rings have been increasingly fashionable in recent years, especially as a spectacular solitaire. Ovals are by far the most popular cut, thanks to their brilliance and extended design. Ovals also have a wide spread, which means that they appear larger than their true carat weight due to their longer design. Because the oval cut disperses color, a lower color grade's warmth is hidden.
Round Cut
Round diamonds are the most traditional option for engagement rings, and they dazzle and shine brilliantly. Because of their brilliance, light performance, and ability to provide optimum sparkle, most people prefer round cuts even for lab-grown diamond rings. Around 70% of all diamond purchases are for lab-grown diamonds. The most valuable diamonds, however, are round-cut diamonds. Because of the form, a large amount of diamond is wasted during cutting, resulting in a higher final price.
Emerald Cut
Emerald cuts are perfect for the minimalist because they are elegant and classy. The rectangular facets of an emerald-cut diamond give it a distinct look, and the rectangular shape is extremely appealing and makes the finger appear longer. Step cuts, like emeralds, contain lengthy, linear facets that resemble a flight of stairs. Because the facets of emerald cut make it easier to perceive a diamond's inclusions, a clarity grade of VS2 or higher is the ideal choice.
Pear Cut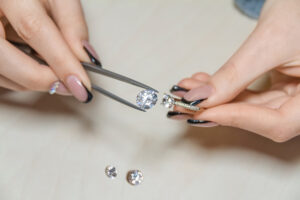 A pear shape is an excellent option for anyone who wants to be noticed and enjoys being different. Due to its single point and rounded end, the shape is called pear. This diamond cut slips the fingers in the same way as oval diamonds do. Pears are another spread diamond with a pleasing elongated shape and a super-bright appearance.
Radiant Cut
If you like the design of an emerald and the gleam of an oval, then radiant cut diamonds are the way to go! With a blend of brilliant and step-cut facets, this diamond is a mixed cut. Because of the way they're made, color is intensified, thus we recommend buying colors I and up.