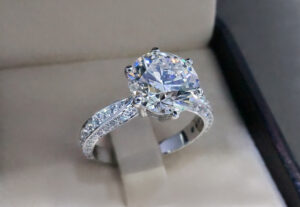 Diamond accents are small stones that are placed beside the center diamond in a piece of jewelry. These stones can boost the overall appeal of the ring or other jewelry pieces. They can add style, personality, and elegance to your diamond rings. The accent stones can be used for bringing more size to the ring without spending a huge amount. For example, when accent stones are arranged in a halo around the center diamond, the center stone can appear bigger because of the combined sparkle offered by these small stones.
Accent stones can also be embedded on the band like in a pave or channel setting. As these diamonds are so tiny, their cost will be extremely lower than diamonds of higher carat weights. Hence, these stones can be very affordable for you. Also, if you choose accent lab grown diamonds, they will be far more affordable than natural ones.
Carat Weight Of Accents
The carat weight of accent stones can greatly vary. In general, your accents can range from 0.01 carats to 0.18 carats. You can choose the carat size based on your preferences and the setting of the ring.
For a three-stone ring, accents that are half the size of the center stone are usually chosen. This is important to maintain the overall symmetry and appeal of the ring.
But for settings like pave and channel, much smaller stones can be used. Jewelers usually use accent stones that are 1/6th the size of the center stone for such settings.
Therefore, when choosing the size of your accent stones, make sure that they can maintain the overall balance of the ring.
Are Accent Diamonds Real?
Yes. Accent diamonds are real diamonds just like the bigger diamonds you use as center stones. However, they have a low value because of their smaller size. Accent diamonds have all the quality attributes as other diamonds including color, cut, carat, and clarity. However, when they are used in jewelry, their total carat weight will be mentioned instead of the individual carat weight of each stone.
Types Of Accent Stones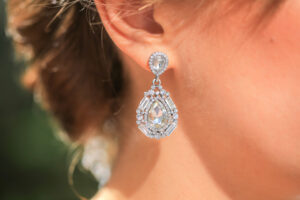 Accent stones come in different shapes. Some of the popular options among them are:
Baguette: Baguette diamonds are available with straight or tapered edges. For a tapered baguette diamond, one end will be wide and it will slim towards the other end.
Round: They are the most popular option in accent stones because of their versatility.
Trillion: It creates a unique option with its triangular shape.
There is a wide variety of ring settings that come with accent diamonds including three-stone, pave, halo, etc. Hence, you will be able to choose from a number of options if you love to add accent stones to your ring.